Professor and Chair, Department of Nursing and Health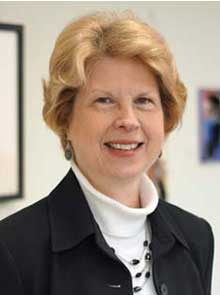 Dr. Libner joined Benedictine University in August 2011 as faculty and Director of the RN to BSN Program. In August 2014, she assumed the role of Chair of the Department of Nursing and Health. Teaching responsibilities are met in both the hybrid RN to BSN and 100% online MSN Programs. Prior to joining Benedictine, Dr. Libner served many years as a nursing faculty member and chairperson. She taught all levels of medical-surgical nursing, including supervising clinical experiences in over a dozen sites as well as meeting administrative responsibilities.
In 2010, Dr. Libner was appointed to the Illinois Board of Nursing. She served as Vice-chair from 2013-2014, Chair from 2014-2016, and as a member of the Education Subcommittee throughout her tenure on the Board. With a nurse educator colleague, she developed the Illinois Board of Nursing's Remediation Strategies for programs with poor NCLEX pass rates. Dr. Libner was awarded fellowship in the National Council State Boards of Nursing (NCSBN) Institute of Regulatory Excellence Fellowship Program pursuing her interest in the implications of nurses' understanding of licensure regulation in Illinois. Dr. Libner currently serves as secretary for the Illinois Association of Colleges of Nursing.
Dr. Libner earned an Ed.D. with a focus in Educational Leadership from Concordia University Chicago, Master of Science in Nursing (MSN) with a clinical specialty in medical-surgical nursing from Loyola University Chicago, and a Bachelor of Science in Nursing (BSN) from Northern Illinois University. She holds certification as a nurse educator with the National League for Nursing and as a gerontological nurse with the American Nurses Credentialing Center.