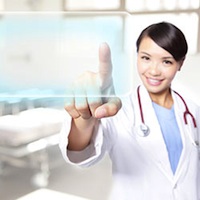 In today's nursing environment, higher education like the online Master of Science in Nursing (MSN) degree program at Benedictine University is rapidly becoming a necessity to move into advanced roles.
The health care industry is quickly evolving and nurses are being called to achieve higher levels of education to meet industry and employer demands. According to the Bureau of Labor Statistics, the nursing industry is predicted to grow 26 percent by the year 2020, larger than other occupations. Advances in medical technology, an aging population and an increased emphasis on preventative care largely contribute to the need of master's prepared nurses.
Nurses who achieve their Master of Science in Nursing will not only become more marketable in this competitive industry, but will be rewarded with the opportunity to become influential leaders in their field. Master's-prepared nurses are given the knowledge and skills to develop and implement nursing practice initiatives as they act as agents of change while improving patient care and outcomes.
The Need for Nursing Competencies
As the health care system evolves and adapts to the changes of the 21st century, nurses will need advanced competencies to ensure patients are receiving expert care. According to the Future of Nursing Report, these competencies include technical knowledge, system improvement, geriatrics, health policy, leadership and collaboration, and evidence-based practice. While nurses are highly encouraged to earn advanced degrees, it is also important for nurses to practice "lifelong learning" and continued education to meet the growing demands of the health care system.
Trending Toward an Advanced Degree
The American Association of Colleges of Nursing (AACN) has reported a significant increase in advanced degree nurses - 67 percent for master's programs and 25 percent for research-focused doctorates. This coincides with a recent initiative in the Institute of Medicine's "Future of Nursing: Leading Change, Advancing Health" which advocates for nurses to pursue a post-graduate degree to meet industry demands.
While a Bachelor of Science in Nursing provides an excellent core foundation, nurses with their master's degree can practice a specialization based on their professional interests and goals. Master's-prepared nurses have learned the skills and knowledge to fulfill advanced positions in their field:
Clinical Nurse Specialist
Nurse Educator
Chief Nursing Executive
Nursing Unit Director
Nursing Administrator
Benedictine's online MSN curriculum aligns with the graduate education standards specified by the American Association of Colleges of Nursing, which emphasize organizational and systems leadership, informatics and health care technologies, advocacy, interprofessional collaboration, evidence-based practice, quality improvement and cultural awareness. The program is based on the most up-to-date research and techniques, so students are prepared for tomorrow's challenges.
Learn more about Benedictine University's Online Master of Science in Nursing program by calling (866) 295-3104, or request more information here.