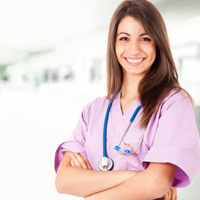 National Nurses Week will be celebrated this month and it is a great time to sit back and reflect on the significance of nursing leadership and its evolution in health care. For a long time now, the focus of nursing care has shifted from basic nursing services to a much broader spectrum and accountability of patient care services. Why the shift? You could say that it's because the health care industry is an increasingly complex business, always in constant change, and that it's continuously evolving to address the myriad of health care needs of our growing population. As such, the profession of nursing must also evolve in order to effectively continue to manage complex patient care and ensure delivery of quality care.
How does the future of nursing continue to meet the needs of the complex environment of health care and still manage complicated patient care? By ensuring that nurses at all levels of patient care become more involved in leadership roles. For many, enrolling into a graduate nursing program often proves to be the first stepping-stone. It will be crucial, however, for those seeking to earn an advanced degree to find graduate nursing programs that will provide them with the key qualities needed to rise to the challenges posed by our complex health care system.
A program that has proven itself is the Nurse Executive Leader Concentration within the online MSN program at Benedictine University. You might be asking yourself, "What's the connection between becoming a nurse executive leader and ensuring quality care?" Light bulb moment! By becoming a nurse executive leader, you are now a member of the senior leadership team. You've always had the insight but now have the tools and skills to mentor and effectively coach others and you bridge that gap between other health care professionals by building trust and credible organizational relationships.
As our health care system continues to evolve, and becomes more integrated, the face of nursing leadership is also changing. Besides the usual ability to effectively communicate, resolve conflict, and be fiscally savvy, nurse leaders and administrators will need to be able to have a broader sense of accountability. Benedictine University's Nurse Executive Leader Concentration prepares its students to be accountable beyond patient care. The coursework not only focuses on leadership and systems but delves into ethics and self-awareness; preparing nurses on how to build that trust that I speak of. These qualities are highly sought after in a nurse executive leader. You have to agree that it would be pretty difficult to enhance a department or facility if you don't have the ability to facilitate and drive the complex design of patient care delivery, to value diversity, to be a change agent, or understand and promote quality improvement.¹ By acquiring these skills, you are more likely now to have the edge in advancing and ensuring that your facility will continue to be innovative and most of all continue to deliver quality patient care.
References
1 Nurses for a Healthier Tomorrow, "Nurse Executive-Career Profiles." Accessed April 23, 2013. http://www.nursesource.org/executive.html
About the Author
Dr. Jasmin Whitfield RN, MSN, MPH, DNP is an adjunct faculty member in the online MSN program at Benedictine University. Her extensive background includes progressive administrative roles in acute rehabilitation services and community health nursing. In addition, Dr. Whitfield is currently accountable for the oversight and organization of the Health Services Department at Sidwell Friends School's D.C. campus including but not limited to health and wellness promotion and outreach and developing and managing occupational health and safety education, policies, and programming for students and employees. To learn more about Dr. Jasmin Whitfield please visit our online nursing degree faculty section.