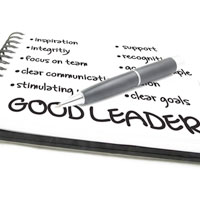 Before we begin, please do not confuse being an effective organizational leader with being a great manager. Too often both are interchanged and assumed to be the same concept. Not really true. A great manager gets things done in a timely fashion. Recall the general management concepts of planning, organizing, directing and controlling. This is important work for the success of the firm, but it cannot replace effective organizational leadership. So you may ask yourself, what are the differences? There are three general functions organizational leadership must contain.
Align Vision with the Business Model
First, ensuring the vision, mission and guiding principles are in congruence with the business model. These statements will set the direction of the organization and provide a "theme" for the entire organization to emulate. Most importantly, from this, a strategic plan with goals may be constructed.
Anticipate and Plan for Change
Second, the impact of change must not be underestimated. To that end as the environment changes, so will the organization. The organization must constantly appraise themselves to determine where weak areas may develop. Specific counter measures must be employed to attend to these weaknesses.
Be Future-Minded
Third is the constant development of the organization in order to build momentum, including change to the internal structure. The goal is to transform the inertia of the current state into a dynamic future state. Organizational leadership reaches far beyond the firm's product and processes. It focuses on the human resource aspects to include the firm's cultural structure, how to motivate and inspire all levels of the organization, how to manage conflict, and how to lead change. The effects of organizational leadership within the firm carry no boundaries. It crosses functional operating units as well as geographical footprint. Multinational firms must have a strong sense of collaboration and cooperation to meet business objectives and effectively compete in the global marketplace. Effective organizational leadership skills are honed over time, coupling formal education with real-life experiences.
Is a Degree in Organizational Leadership Worth It?
So why should a future business leader be interested in pursuing this field of study? A concentration in organizational leadership enables the learner with the knowledge and skills to lead within any type of organization, service or manufacturing. Some key concepts include understanding critical organizational processes, team building, effective communication, conflict management, multicultural team building, and leading/driving change. Performance management is a key learning that will enable improved performance through talent development and create a performance-based culture. The study of corporate structures and the impact on business process efficiencies will enable the learner to deploy corrective action strategies in an effort to get the organization "back on track". The organizational leadership "tool box" will prepare the future business leader with the skills one needs to drive organizational change. As stated earlier, this reaches far beyond the product and into the inner workings of the organization. The end result is a high level of organizational effectiveness that will have a direct impact on the strategic objectives related to growth and profitability.
To put this in perspective, some 50 years ago, W. Edward Deming's shared his four points of Profound Knowledge which includes, appreciation for a system, knowledge about variation, theory of knowledge and knowledge of psychology. The first three concepts are related to the "science" of the business. The last, knowledge of psychology, is related to the "science" of the organization. This is one of the most difficult pieces of Profound Knowledge since the input is human capital and unlike statistics is hard to predict! How to define and master the "psychology" of the organization is what the study of organizational leadership is about. What more important area of study, one with a dramatic impact on organizational effectiveness!
Related Benedictine Programs
If you are interested in learning more about how to be an effective leader, check out Benedictine's Management and Organizational Behavior program, which offers courses on Leadership, Organizational Behavior, Team Building and Organizational Structure. To learn how an online degree from Benedictine can help you hone your leadership skills talk to a Program Manager today.
About the Author
Pete Papantos is an operations director at a Fortune 500 company. He is responsible for the global execution of their strategic plan and driving operational excellence using lean methods. In addition, Pete is a graduate instructor with emphasis in operations and strategic management — both in traditional and online settings.