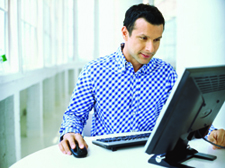 Staying up to date with developments and trends in the field will be an advantage to you as a public health student. At Benedictine University you will learn to apply public health principles and concepts to real life situations. You will get the opportunity to share and discuss current events in public health with your classmates and instructors, thereby enhancing your learning. Here are the top 10 must-read journals to help you on your way.
American Journal of Preventive Medicine
American Journal of Public Health
Annual Review of Public Health
Bulletin of the World Health Organization
Journal of Epidemiology & Community Health
Journal of Public Health Research
Journal of Public Health Policy
The Lancet Specialty Collections
Perspectives in Public Health
Public Health Reports
The Benedictine Library carries the latest editions of these journals. You will need your Benedictine Library ID number to access them. If you are not yet enrolled at Benedictine University, check the home pages of the various journals.
Related Benedictine Programs
Benedictine's online Master of Public Health (MPH) degree program provides essential organizational leadership tools to help you deal with the vital issue of public health. To learn more about how Benedictine's online MPH can educate you on the current public health issues and arm you with the knowledge to educate and inform your community click here or speak to one of our Program Advisors who can share more with you about the program and curriculum.
About the Author
JM Alexis Smalec (Dr.PH) is a seasoned professional with extensive experience in public health initiatives. Her track record of successful work with non-profit and academic institutions includes: PATH, UNICEF, UNFPA, FAO, l'agence Francophonie, Cornell University Cooperative Extension and the University of the West Indies. Dr. Smalec is an adjunct faculty member in the online MPH program at Benedictine University.