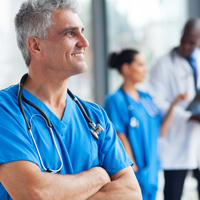 A Master of Public Health (MPH) degree opens new pathways in a health care professional's career. The public health industry is growing at an exponential rate in multiple directions and creating new opportunities for a professional prepared with the right degree. Ten in-demand public health positions (in no particular order) are:
1.

Health Care Administrator

Direct and coordinate delivery of health care and medical services. Manage finances, recordkeeping and communications with medical staff. Work to improve quality and efficiency. Run smaller medical practices, or work in specialized areas within large hospitals or health care systems.

Job outlook (2012-2022): +23 percent
Median salary: $88,580/year
Common titles: Resident care director, clinic manager, director of case management, care coordinator, laboratory manager.
2.

Pharmacist

Dispense prescription medications and provide recommendations in the safe use of prescriptions. They also may provide advice on wellness activities, immunizations and health screenings, and oversee the medications given to patients.

Job outlook (2012-2022): +14 percent
Median salary: $116,670/year
Common titles: Pharmacist, pharmacy technician.
3.

Medical and Clinical Laboratory Technologists

Collect and review samples through testing to analyze body fluids, tissue, and other substances.

Job outlook (2012-2022): +22 percent
Median salary: $57,580/year
Common titles: Medical technologist, biological technicians, chemical technicians, chemists, veterinary technicians.
4.

Respiratory Therapist

Provide care to patients who experience difficulty breathing. Also work with patients experiencing chronic respiratory disease such as asthma or emphysema. Patients may range from premature infants with undeveloped lungs to elderly patients.

Job outlook (2012-2022): +19 percent
Median salary: $55,870/year
Common titles: Respiratory therapist, respiratory technician, respiratory specialist.
5.

Nutritionist

Provide clients with advice on healthy eating and help to plan nutritional menus. Work with individuals who have specific dietary needs such as hospital patients, or oversee food programs in schools, hospitals and other large organizations. Work in a community setting or nonprofit, governmental or public health organization, offering nutritional advice to specific groups of people.

Job outlook (2012-2022): +21 percent
Median salary: $55,240/year
Common titles: Dietitian-hospice, nutritionist, dietitian, clinical dietitian, registered dietitian.
6.

Health Educator

Create programs to teach people and motivate them to follow healthy behaviors. Work with individual patients and families in a health care setting, or develops campaigns and materials directed to larger groups such as college students. Organize events like health screenings, trainings for peer educators and other professionals, or incentive programs like weight loss challenges.

Job outlook (2012-2022): +21 percent
Median salary: $48,790/year
Common titles: Certified diabetes educator, public health officer, diabetes educator, educator, health educator.
7.

Biostatistician

Conduct statistical analysis of health and biology-related data. Analysis may be used for product development at a pharmaceutical company, disease research at a hospital or health policy research at a public health organization.

Job outlook (2012-2022): +27 percent
Median salary: $92,961/year
Common titles: Associate director of biostatistics, bioinformatician, bioinformatics analyst, principal biostatistician, senior biostatistician.
8.

Emergency Management Director

Plan and develop procedures for responding to natural disasters or other emergencies. Coordinate response processes during and after emergencies in collaboration with fire and law enforcement officials, government officials, nonprofit organizations and government agencies.

Job outlook (2012-2022): +8 percent
Median salary: $59,770/year
Common titles: Emergency room technician, emergency department technician.
9.

Social and Community Service Manager

Coordinate and manage social service programs and community organizations. Managers also direct and provide leadership to staff who provide social services to communities.

Job outlook (2012-2022): +21 percent
Median salary: $59,970/year
Common titles: Health educator, community health worker, rehabilitation counselor, human service assistant, substance abuse and behavior counselor.
10.

  Epidemiologist

Collect information and investigate diseases, infections or other health problems that appear in a community. Analyze data gathered from surveys, interviews, observations or samples and report findings. Direct studies of public health problems and advise on ways to prevent or treat problems or reduce risks.

Job outlook (2012-2022): +10 percent
Median salary: $65,270/year
Common titles: Public health epidemiologist, senior epidemiologist, infectious disease specialist, infection control practitioner, epidemiologist.

Organizations such as Hospital Corporation of America, Department of Veterans Affairs and United Health Group create new job listings every day. To learn more about earning an MPH degree and preparing yourself for one of these in demand careers, visit the program page or call us at (866) 295-3104.
References
*Facts and figures from data.bls.gov/.