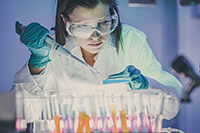 If you enjoy the prospect of conducting scientific research that could have a positive effect on communities far and wide, consider pursuing an epidemiology career. Epidemiologists play a key role in identifying, monitoring and preventing the spread of disease and other public health issues.
This brief overview can help you decide whether earning a master's in public health (MPH) in epidemiology might be right for you.
What Is Epidemiology?
Epidemiology is the scientific study of disease within a given population. Sometimes labeled "disease detectives," epidemiologists examine the origin of disease, track and investigate its transmission, and work to reduce the risk and occurrence of illness.1 The work of an epidemiologist may include:
Engaging in clinical research and overseeing public health studies.2
Collecting and analyzing data in the form of samples, interviews and surveys.2
Publishing research findings and contributing to public health care policy.3
Overseeing programs to improve preventive health care measures.1
Educating the public to reduce the risk of injury and spread of disease.3
Depending whom you work for, your epidemiology career may focus more on research, policy or advocacy.1 Potential employers include universities, health care facilities, clinical research laboratories, private companies, government agencies – such as the Centers for Disease Control and Prevention (CDC) or the National Institutes of Health (NIH) – and nonprofit organizations.2 Some epidemiologists also choose to specialize in a particular area of public health, such as infectious diseases, emergency response, environmental health or behavioral epidemiology.3
Career Outlook for Epidemiologists
According to the U.S. Bureau of Labor Statistics, job growth for epidemiologists between 2014-2024 is predicted to increase by 6 percent, which is the same as the national average for all occupations. The median annual salary of an epidemiologist, as of May 2015, was $69,450. However, those who worked in research and development in the physical, engineering and life sciences earned a higher median annual salary of $91,900.3 Jobs in outpatient care centers reportedly paid an even higher average yearly salary of $112,210.2
To get a job in this field, you will need an advanced degree, preferably an MPH in epidemiology. Master's programs tend to be more career-oriented while PhD programs focus more on research opportunities.2 A PhD is not required, however, unless you want to pursue a senior-level job or research position at a university.4
If you decide to pursue a graduate degree in epidemiology, look for a multidisciplinary program that covers a wide range of topics, such as health policy, research methods, biology, ethics, statistics and environmental health. To be a competitive job candidate, you will need to acquire skills in research methods and principles, disease pattern analysis, preventive health and medicine, statistical analysis, data collection and analyzation, and communication.
Finding the Right MPH in Epidemiology for You
Benedictine University offers an online Master of Public Health program with the option to earn a Graduate Certificate in Epidemiology. The certificate can be earned alongside the Master's program at no additional cost and for no additional time.
Benedictine's MPH program is accredited by the Council on Education for Public Health (CEPH) and provides you with the knowledge and skills you need to obtain a position in the field of public health. The epidemiology curriculum includes the following four courses (16 required credit hours): Biostatistics, Epidemiology, Methods of Research in Public Health and Applied Epidemiology.
To learn more about the MPH in Epidemiology program at Benedictine University, please visit the online.ben.edu/programs/mph or call (866) 295-3104 to speak with a Program Manager.
References:
1 "A guide to careers in epidemiology: Career paths, salary info and job seeking resources." Public Health Online. http://www.publichealthonline.org/epidemiology/ (accessed April 18, 2017).
2 "How do I become an epidemiologist?" Learn.org. http://learn.org/articles/How_Do_I_Become_an_Epidemiologist.html (accessed April 18, 2017).
3 "Occupational outlook handbook: Epidemiologists." U.S. Bureau of Labor Statistics. https://www.bls.gov/ooh/life-physical-and-social-science/epidemiologists.htm (accessed April 18, 2017).
4 "Become an epidemiologist: Education and career roadmap." Study.com. http://study.com/become_an_epidemiologist.html (accessed April 18, 2017).