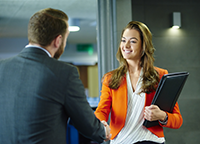 Want to get an advanced degree in public health that allows you to gain hands-on field experience? Consider enrolling in the online Master of Public Health (MPH) program at Benedictine University.
Not only is Benedictine's program accredited by the Council on Education for Public Health (CEPH), but it also offers students the opportunity to apply learning under supervision through an MPH internship. Here is a quick look at how it works along with the industry outlook.
Public Health Careers Outlook
Job opportunities in public health are predicted to grow faster than the national average (7 percent between 2014-2024), according to the U.S. Bureau of Labor Statistics (BLS). Over the same 10-year period, the BLS predicts job growth for public health employees will increase as follows:
17 percent for medical and health services managers1
13 percent for health educators and community health workers2
11 percent for environmental scientists and specialists3
Average potential earnings for graduates of public health advanced degree programs range widely — from approximately $40,000-$160,000 — based on title, location and previous work experience.4 A sensible way to explore your options and determine where your professional interests may lie is to complete an internship.
Finding the Right Internship for You
The right internship will enable you to take the skills and knowledge you have gained in the classroom and put them into action. That is why Benedictine's MPH internship program offers such diversity and flexibility. Based on your unique career goals and interests, you can choose from a variety of organizations, including health foundations, hospitals, city health departments, health insurance agencies, community health centers, government agencies, mental health clinics, professional associations, health maintenance organizations, health policy organizations and voluntary health agencies.
If you are already working in your desired field, you also have the option to complete an internship with your current employer. However, in order to do so, you will need to meet the following requirements:
Activities cannot be a part of your regular job.
Your employer must guarantee that the required clock hours for your internship don't overlap with those for which you have already been compensated for under your employment contract.
A qualified preceptor must have oversight of your internship experience. (Your preceptor must hold a master's degree and be trained in a public health-related field).
In the event that you need additional guidance or suggestions, you can also consult with Benedictine's dedicated Internship Program Coordinator.
How the Benedictine MPH Internship Experience Works
Once you have completed 10 foundation courses (40 credits hours), you may register for the MPH internship course (MPH 690). However, it is a good idea to get an early start and submit your internship application after completing 30 credit hours.
The internship course is eight weeks long, and the program requires 240 contact hours for completion. Most students work full time and average 10-15 hours per week fulfilling their internship duties. Therefore, you may extend your course to fulfill the needed hours.
In terms of compensation, most internships are unpaid. However, you may seek an internship that offers compensation if you wish.
To learn more about the Benedictine Master of Public Health internship experience, please visit online.ben.edu/mph or call (866) 295-3104 to speak with a Program Manager.
References:
1 "Occupational outlook handbook: Medical and health services managers." U.S. Bureau of Labor Statistics. https://www.bls.gov/ooh/management/medical-and-health-services-managers.htm (accessed April 11, 2017).
2 "Occupational outlook handbook: Health educators and community health workers." U.S. Bureau of Labor Statistics. https://www.bls.gov/ooh/community-and-social-service/health-educators.htm (accessed April 11, 2017).
3 "Occupational outlook handbook: Environmental scientists and specialists." U.S. Bureau of Labor Statistics. https://www.bls.gov/ooh/life-physical-and-social-science/environmental-scientists-and-specialists.htm (accessed April 11, 2017).
4 "Job outlook for careers in public health." Online Masters in Public Health. http://www.onlinemastersinpublichealth.com/job-outlook-for-careers-in-public-health/ (accessed April 11, 2017).