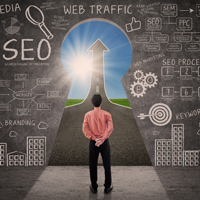 As the Internet has become central to consumers' everyday lives, its use as a marketing medium is critical. While marketing encompasses both theory and practice, Internet marketing has especially demonstrated how practices continue to change with the latest in technology. New trends are constantly emerging, requiring Internet marketing professionals to remain current and informed on how these technologies are being used.
Keeping Current
Society's reliance on the Internet has changed the face of how businesses operate, especially within the marketing industry. Marketing professionals must continue to stay current on the latest online technologies, practices and trends to keep their competitive edge.
One way that Internet marketing professionals can accomplish this is with continued education, attending networking events and taking advantage of professional development opportunities such as free webinars and professional conferences.
In the same way that the face of marketing has changed for professionals in the industry, it has also changed for the brands and businesses that employ marketing strategies. While it was once enough to simply have an online presence in the form of a basic website, current technological developments and practices are now requiring much more.
From creating unique content as a marketing strategy to using social media platforms, Internet marketing professionals must stay current on the latest trends and tactics being used in their industry. Other important aspects of Internet marketing include tracking Web analytics and creating search engine optimization (SEO) strategies to expand the reach of a business or brand. These tactics are crucial as they provide means for Internet marketing professionals to offer desirable results to their companies and clients.
Social Media Marketing
Because of the widespread use of social media and the fact that it is relatively inexpensive, this medium has become an integral platform for brands, companies and organizations to market themselves.
One of the main tenets of social media use is sharing, which helps support the role of social media platforms as a medium. Social media marketing has proven successful in allowing brands to create awareness, as users share their content within their own networks of social connections.
Pinterest is a platform that is especially popular with brands that rely on images of their products to attract customers, and because it is a visually heavy social media platform, brands are able to promote and share images to reach a wider audience.
In addition to sharing, social media marketing also provides the opportunity to connect with audiences. Engagement, which might seem like a popular buzzword among Internet marketing circles, is actually an important part of strategic marketing as it demonstrates the two-way conversation. Consumers have been "talked at" for decades, and social media provides them the opportunity to have a share of voice and engage with the brands they feel passionate about.
This aspect of accessibility helps consumers transition into lifelong loyal ambassadors for a brand, company or product.
Content Marketing
Content marketing is a relatively new concept used by Internet marketers in which unique content about a particular brand or company is created and shared with the intent to attract and build an audience. One important benefit of content marketing is that it allows a brand to find its voice while establishing itself as a thought leader in a particular industry.
Material provided in content marketing should always be of value to the audience whether it is educational, informational, entertaining or all three. If the content is desirable to an audience, there is a greater chance it will be shared through their various social media channels.
Another strategy behind content marketing is providing a call to action, motivating the consumer to respond in some way. Whether this is subscribing to a company's email newsletter or actually becoming a customer, content marketing's main intent is to influence consumers in a way that benefits the company or brand.
Search Engine Optimization
Search engine optimization is another Internet marketing strategy that can positively affect the amount of traffic or visitors to a website. Currently, Internet marketers use SEO by creating web content that responds well to search engines, as well as what terms and keywords web users are searching for. By tailoring their content to these criteria, Internet marketing professionals are able to get their content in front of more consumers, thus increasing their marketing reach.
Search engine optimization may include strategies that support targeting searches across different categories, including videos, images or content that is educational in nature.
As has happened recently with Google, search engine algorithms can change and cause Internet marketing professionals to adapt their SEO strategies. It is always best to employ a variety of SEO tactics so that when these types of algorithm changes do occur, it doesn't leave Internet marketers scrambling to chase their traffic.
Web Analytics
Web analytics are a crucial yet behind-the-scenes aspect of Internet marketing which involves the collecting, reporting and analysis of Internet data with the intention of understanding audience web usage. It is important for any Internet marketing professional to employ web analytics so that he or she may understand what activities are taking place on the sites of their brand or company.
The focus on web analytics has grown exponentially in recent years, allowing companies to hone in on how their audiences got to their site and with what content they engage. By gaining insight and understanding of visitor behavior such as click paths and bounce rates, Internet marketing professionals can tailor websites to better meet the needs of visitors, thus helping them deliver measurable results.
A Marketing Edge
When applying Internet marketing strategies to business, it is important to remember that one thing will remain constant: change. In an ever-evolving Internet marketing environment, it is crucial to stay current on Web trends and innovative tactics available for customer reach.
Related Benedictine Programs
It is important to remember that continued education is a vital way to stay current on industry trends. Benedictine University's Master of Business Administration (MBA) can provide a solid foundation for both Internet marketing professionals and students seeking an advanced degree. By delivering continually updated instruction that is designed to develop proficiency with real-world marketing tools, this online MBA program provides students the education and know-how to carry out Internet marketing in a competitive business environment.