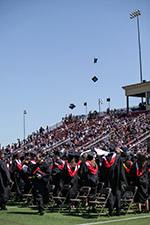 America is a melting pot of many cultures. To work effectively as a public health professional, one must be knowledgeable about and sensitive to the various cultures. However, cultural competence is more than simply knowledge and awareness of the various cultures of the clients, patients or consumers with whom a public health professional interacts. It also involves a process of self-reflection and self-inquiry that will ultimately be beneficial to the health professional, both at the personal and professional levels.
MPH 609, Cultural Context of Health Care is a foundation course in the Master of Public Health (MPH) program that revolves around the concept of cultural competency. The comments made by some past MPH 609 students are very telling of the course.
"I have always sought to be respectful of everyone's cultural beliefs and traditions but prior to this course I did not have an awareness of the concept of cultural competency in the healthcare setting." "I just started a job working for a Tribal Clinic. I think that my knowledge of cultural competency and discussing its importance in my interview helped me obtain this amazing opportunity. So that's a big professional impact!"
"As a registered nurse, I learned to provide quality care to my varied patient population regardless of their cultural beliefs about disease and treatment. . . . Yet, this class has no doubt been an eye opener for me; I had the opportunity of being exposed to varied ways of being culturally competent."
"Participation in this class highlighted the importance and need for cultural competence to be communicated to my nursing students. As a faculty member, I must assess and build on my own culturally competencies; this requires a certain amount of self-awareness of any personal prejudices. . . . I feel the information obtained throughout this course has allowed for such self-awareness to unfold."
"I have a greater understanding of how culture can be impacted by other factors such as personality, birth order, generational development, personal experience, and social movements. . . . I have a greater appreciation for the difficulties -- from language barriers to complex cultural dynamics that immigrants face. All of these issues come into play in the healthcare setting when one is trying to provide high quality care to people of diverse cultural backgrounds."
"As I interact with various people at my place of employment, be they staff or guests, I realize that my norm is not the same as others, even though we may be of the same race. . . . It has helped me to understand and communicate better with others at work and everywhere else. In the future I would appreciate the opportunity to work with organizations as they move to become culturally competent institutions".
"When I initially signed up for this class, I thought this would be an interesting course to take in order to learn about health care in various cultures. This class has offered so much more. . . . The concepts of acceptance, respect, cultural and linguistic competence, and unequal treatment have had a huge impact on my professional life."
The online MPH program at Benedictine University equips students with key concepts and information in a diverse course environment that fosters the development of competences critical for work in public health. Please check the descriptions of the MPH foundation and elective courses for more information.
About the Author
JM Alexis Smalec (Dr.PH) is a seasoned professional with extensive experience in public health initiatives. Her track record of successful work with non-profit and academic institutions includes: PATH, UNICEF, UNFPA, FAO, l'agence Francophonie, Cornell University Cooperative Extension and the University of the West Indies. Dr. Smalec is an adjunct faculty member in the online MPH program at Benedictine University.