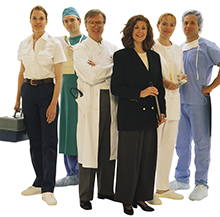 The MPH student community at Benedictine University is a diverse group. You will meet classmates who come from various sectors within the health field (nursing, medicine, dentistry, corporate wellness, etc.). You will also interact with classmates who are experienced in other sectors but new to the field of public health.
The online class environment provides a unique opportunity for networking with many students in a relatively short period of time. Take time to greet and meet your classmates informally so that you can remain in contact after the course has ended. This is one way to begin building your professional network from scratch or to expand on a network that you may have already started to develop.
Consider obtaining membership in LinkedIn. You can join various professional groups that interest you and participate in the group discussions. There are groups related to nursing, nutrition, general public health, and other areas. You will find that several professional associations and even some journals have a presence there. Once you become a Linked In member, you will be able to search the extensive directory of groups, to find the ones that interest you.
Some of the groups that my public health students have found to be useful include the following:
American Public Health Association (APHA)
Benedictine University
Delta Omega Honorary Society in Public Health
Global Health Council
Global Public Health Activity
Global Public Health - Social Determinants of Health Subgroup (a subgroup of Global Public Health)
Healthy People 2020
Journal of Communication in Health Care
Public Health Professionals
Thesis and Dissertation
Various Alumni Groups
The Learning Annex offers an extremely informative, online webinar on making the most of LinkedIn. It cost $1.99 and you can return to it for at least a month. I highly recommend the webinar because it explains the process of getting started, building a professional online presence, developing a network on LinkedIn, job hunting, and other activities, in a simple and very organized manner.
Make time to network actively! It will serve you well in the academic and the professional world!
Related Benedictine Programs
Benedictine's online Master of Public Health (MPH) degree program provides essential organizational leadership tools to help you deal with the vital issue of public health. To learn more about how Benedictine's online MPH can educate you on the current public health issues and arm you with the knowledge to educate and inform your community click here or speak to one of our Program Advisors who can share more with you about the program and curriculum.
About the Author
JM Alexis Smalec (Dr.PH) is a seasoned professional with extensive experience in public health initiatives. Her track record of successful work with non-profit and academic institutions includes: PATH, UNICEF, UNFPA, FAO, l'agence Francophonie, Cornell University Cooperative Extension and the University of the West Indies. Dr. Smalec is an adjunct faculty member in the online MPH program at Benedictine University.