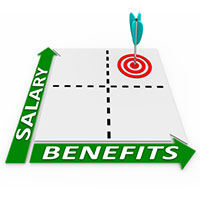 The public health field offers a lot of opportunities and chances to make huge impacts. Though it can be challenging at times, professionals with the right credentials, knowledge, and compassion often find it extremely rewarding. Earning a Master of Public Health (MPH) can be the first step in securing a spot in this growing industry and landing a role — and salary — you'll love. In public health, you can make a great living while making a difference.
Explore the salaries of high-paying public health jobs.
Natural Sciences Manager
These highly trained professionals work in a variety of scientific roles in public health, research and development. They may focus on lab testing, environmental testing and quality assurance. The median salary is $137,940 per year.1
Medical and Health Services Manager
Health services managers plan, coordinate and direct services in medicine and health care. They may manage an entire health care facility or specialize in one area, such as a public health clinic. The median pay for this position is $104,280 per year.2
Health Services Administrator
This career path combines politics, business and science to manage and deploy resources efficiently. Health services administrators may specialize in organization, planning, policy analysis, finance and marketing. The median salary is also $104,280 per year.2
Epidemiologist
Epidemiologists study and analyze disease patterns to prevent and mitigate public health crises. Their role in educating people about safe health practices is vital. The average salary of an epidemiologist is $100,805.3
Biomedical Engineer
Also known as microbiologists, these individuals develop lab testing and scientific techniques that involve tissue samples and fluids to assist doctors in getting more effective diagnoses for diseases. The median salary for biomedical scientists is $92,620 per year.4
Biostatistician
These professionals apply statistics to public health concerns, particularly in the field of biology. They conduct experiments and surveys to collect key data that is relevant to maintaining public health, especially in at-risk communities. The median salary is $87,190.5
Infectious Disease Specialist
Infectious disease professionals research the causes of disease and actions that can be taken to prevent further outbreaks. The average salary in this position is $83,286 per year.6
Health Care Consultant
Health care consultants try to boost the health of people across the globe. They work on some of the most challenging public health problems. Common employers are government agencies, such as the Food and Drug Administration, the Department of Health and Human Services and the Centers for Disease Control. The average base salary is $79,510 per year.7
Occupational Health Specialist
In this job, individuals work to prevent injury and illness to workers, property, the environment and the public. They promote occupational health and safety in organizations by advising management on how to boost or maintain worker productivity while also protecting health and well-being. The average salary for individuals in this role is $77,427.8
Nonprofit Coordinator
Nonprofit coordinators spearhead various initiatives for public health organizations. For example, they might lead a campaign to help people in needy communities to stay healthy or help the nonprofit to raise money for causes related to public health. The yearly median salary is $69,600 per year.9
While public health salary numbers are enticing, professionals entering this field do so because they have an innate drive to serve the greater good and create change. With an online Master's in Public Health (MPH) degree from Benedictine University, you'll get the skills and knowledge necessary to help position yourself for one of these rewarding careers. Learn more about your career options with an MPH degree.
References:
2U.S. Bureau of Labor Statistics. Medical and Health Services Manager. Occupational Outlook Handbook. Retrieved February 7, 2022, from https://www.bls.gov/ooh/management/medical-and-health-services-managers.htm
3Salary.com. Epidemiologist. Retrieved February 7, 2022, from https://swz.salary.com/SalaryWizard/Epidemiologist-Salary-Details.aspx
4U.S. Bureau of Labor Statistics. Bioengineers and Biomedical Engineers. Occupational Outlook Handbook. Retrieved February 7, 2022, from https://www.bls.gov/ooh/architecture-and-engineering/biomedical-engineers.htm
5Salary.com. Biostatistician. Retrieved February 7, 2022, from https://www.salary.com/tools/salary-calculator/entry-biostatistician
6Glassdoor. Infections Disease Specialist. Retrieved March 1, 2022, from https://www.glassdoor.com/Salaries/infectious-disease-specialist-salary-SRCH_KO0,29.htm
7Payscale. Health Care Consultant. Retrieved February 7, 2022, from https://www.payscale.com/research/US/Job=Healthcare_Consultant/Salary
8Salary.com. Occupational Health & Safety Specialist Retrieved February 7, 2022, from https://www.salary.com/research/salary/listing/occupational-health-and-safety-specialist-salary
9U.S. Bureau of Labor Statistics. Social and Community Service Managers. Occupational Outlook Handbook. Retrieved February 7, 2022, from https://www.bls.gov/ooh/management/social-and-community-service-managers.htm