Dietetic Internship Director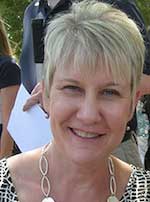 Ms. Julie Moreschi joined the university in 1994 as an adjunct faculty member. In 1997 she was hired as the Dietetic Internship Director. Ms. Moreschi's prior positions include clinical dietitian, cafeteria manager, diet office manager, assistant foodservice director, internal management consultant, and consultant at a variety of health care organizations in Illinois and Minnesota. Ms. Moreschi earned her Master of Science in Clinical Nutrition from Rush University, and is currently in pursuit of her Ph.D. in Public Health at the University of Illinois, Chicago.
Ms. Moreschi's professional interests lie primarily in the areas of community nutrition, maternal and child wellness, and obesity prevention and intervention from preconception through pre-K. To support her endeavors over the past 6 years, she has been involved with grant funding wellness interventions in West Chicago School District #33. Her research abstracts were accepted for publication and poster presentation through a peer-review process, and Ms. Moreschi is a chapter author in two textbooks: Managing Food And Nutrition Services for the Culinary, Hospitality, and Nutrition Professions and Nutrition and Public Health, 2nd Edition. In addition, she is as a reviewer for the Maternal and Child Health Journal.
Ms. Moreschi is a past President of the West Suburban Dietetic Association, past Chair of both the Strategic Planning Committee and CPI Committee of the Illinois Dietetic Association (IDA). She is on the advisory board and several committees for the obesity prevention coalition FORWARD (Fighting Obesity Reaching healthy Weight Among Residents of DuPage). Ms. Moreschi was the recipient of the Outstanding Dietetics Educator Award and Recognized Young Dietitian of the Year Award, both from the IDA.
Have more questions? Call us about the Benedictine University M.S. in Nutrition and Wellness at (866) 295-3104 to speak to a program manager or request more information.