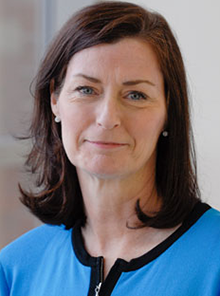 Therese F. Yaeger, Ph.D. is the Associate Director of Benedictine's Doctor of Philosophy in Organization Development (O.D.) program. She teaches Organization Development and Management and Organizational Behavior courses to graduate and undergraduate students at Benedictine as well as audiences in corporate settings. She has been instrumental in establishing the Benedictine University Distance Learning Executive Program for the U.S. Postal Service and has developed executive development programs for some of the largest corporations in the Chicago area including John Deere, Motorola, McDonald's and the University of Chicago Academy. Yaeger has been a frequent presenter at national and international professional conferences and received an award for the Best Paper Presentation at the O.D. Institute's Annual Conference in 2001.
Currently serving as president of the Midwest Academy of Management, she has been the co-chair of its Organization Development Track for more than a decade. Yaeger is an active member of several national professional organizations; has authored more than 50 papers, presentations and articles; authored two books on Appreciative Inquiry; and co-authored the book Global and International Organization Development with Peter Sorensen and others. She is an editorial associate of the OD Journal and Chicago's ASTD Training Today and has been a guest editor of the OD Practitioner and the OD Journal.
Publications: Therese F. Yaeger, Ph.D.
Her work includes:
"Global Organization Development: Managing Unprecedented Change"
This book incorporates models of cultural differences, which are identified and expanded in terms of the implications for the practice of organization development.
"Appreciative Inquiry: An Emerging Direction for Organization Development"
An introduction to a shared mission for the creation of better, more fulfilling and more productive work places, places where the potential for OD and OD values are most fully realized.
"Critical Issues in Organization Development: Case Studies for Analysis and Discussion (Contemporary Trends in Organization Development and Change)"
With 30 case studies compiled in one OD resource book, both practitioners and academics can experience an OD challenge and value the differing responses from OD experts.
"Appreciative Inquiry: Foundations in Positive Organization Development"
For those interested in supplementing their OD skills with a thought process that is "outside the box," this book provides explanation and adaptation of Appreciative Inquiry.
"Strategic Organization Development Managing Change for Success (PB) (Contemporary Trends in Organization Development and Change)"
This book addresses how to plan for and create an organization capable of competing and excelling in a turbulent environment, one of the most complex and important issues for management and organization development today.
"Organization Behavior and Change: Managing Human Resources for Organizational Effectiveness"