Benedictine's online BA in Management provides you with a comprehensive overview of business functions that you can use in a wide range of roles and fields. You will not only earn a vital credential but you will gain knowledge you can build on for years to come.
When you earn your online Bachelor of Arts in Management from Benedictine, you will graduate with the critical quantitative skills in marketing, project management, finance and other major areas of business that today's top employers demand.
According to recent employment projections by the U.S. Department of Labor:
Individuals who have earned a bachelor's degree earn approximately $464 more a week than those who did not continue their education after high school graduation.
In addition, the unemployment rate was lower among those with a bachelor's degree: just 2.7 percent versus 5.2 percent among individuals with only a high school education.1
Median Salary by City - Degree: Bachelor's Degree (United States)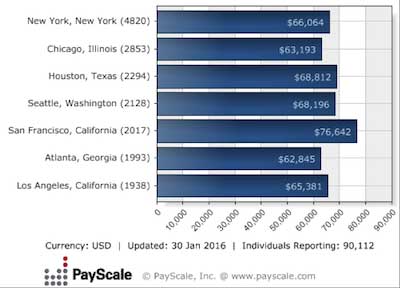 s
Your First Step Toward an MBA
The online bachelor's degree in Management can also be your gateway toward a graduate credential. If you decide to enroll in to the Master of Business Administration (MBA) program at Benedictine, the University will waive up to four master's degree prerequisite courses from the program, saving you time and money.
What Can I Do with a Bachelor's in Management?
You can immediately apply what you learn in the online bachelor's program in Management in a wide variety of fields based on your personal and professional interests. Potential occupations within these fields include:
Operations management
Human resources management
Project management
Accounting and finance
Marketing and sales management
General management
Office management
Budget analysis
Training management
Contact Us
Discover the career opportunities that can open when you have a BA in Management from Benedictine University. Call a Program Manager at (866) 295-3104 today to get started or apply online now.
References
1 Bureau of Labor Statistics, Current Population Survey, accessed 11/12/13, http://www.bls.gov/emp/ep_chart_001.htm.